Value Proposition development
Establishing and developing Insureon's value props.



The Problem

In my first year at Insureon, there was a clear need for non-biased user testing on a variety of aspects of the business. While assessing the redesign for Insureon's front facing website, we needed to gain an understanding of the user's mental model when searching for small business insurance.

This would provide insight into a few things about our users:

The natural language users leverage to search for small business insurance.

Search keywords used when looking for small business insurance.
Users' navigation paths to our competitors and how they perceive those webpages.
What users hope to do and what they hope to learn when searching for small business insurance.
Usability study

We recruited 19 small business owners and gave each participant a mix of tasks and survey questions. Participants were asked to use think aloud protocol for tasks.

Insights
Users often search with their own state specifically in the search query. As many users were navigating their search results, they would bypass the first two results while acknowledging that they did not like clicking on "paid ads". Insureon at the time was invested in paid ad placement, so that was a really great insight for our business to hear from users first hand.

One interesting behavior was observed while watching users navigate the search results. For the first time, stakeholders were seeing that Insureon was presenting itself as a single carrier, appearing as a competitor to some of the single insurance carriers. Insureon should be presenting itself as a one stop option to compare multiple quotes from the best carriers. Had someone perhaps pointed this out in a meeting, it would have not been as impactful as the stakeholders being shown video of our users demonstrating this positioning first hand, so this felt like a solid win.



One view into what our users were seeing when they navigated search results. Insureon was positioned as a single carrier, rather than a one stop destination to compare multiple quotes from the best carriers.


Culture Change
Part of this test was to initiate a mental shift for our content strategy stakeholders. There was a perception that we should not be reiterating our businesses value proposition as it was viewed as "repetitive". After having content stakeholders watch the videos first hand, they could see the value of presenting and reiterating the value propositions consistently throughout the user experience.

Result
From this study, there was acknowledgment from content that Insureon had not consistently establed value propositions and needed clarity around that initiative. This led to an office wide workshop with the customer experience team on how to develop value propositions for Insureon. This workshop brought Insureon's different teams together and created an opprotunity to correct the disconnects around who our key customers were, what they were looking for, and how we should present ourselves.




Team and Stakeholders

Content Team
The content team looks for insights from SEO and UX to guide the content strategy. Educating and guiding the content strategy to a user focused strategy is the main goal of the value proposition excercise.

Product team
Product Management is a key member of this value proposition exercise.



Value proposition office exercise
I intended to have this exercise be a working session for all members of the Silicon Valley office. Having the entire team participate would ensure that all team members felt involved in the solution, and drive alignment on what the main value propositions are that the company would focus on. Education was a main focus of this exercise, as all the teams had differing ideas of who our customers were, what problem we solve for our customers, and which key business values we wanted to highlight.


Some of the office's statements for "What problem Insureon solves for customers".
Insureon team members were asked to identify: "Who the target buyer is", "what problem Insureon solves", and the "reasons Insureon is best for the job". After the individual team members wrote down their own ideas on post-its, I would provide members with the data and research we had around each item.
Create a value proposition by compiling the three items
Apply value propositions created in a headline, subhead, Call to action buttons, and body text.
Review & discuss all team value propositions as a group
Testing value propositions

After the value proposition exercise with the various teams, Design evolved and developed value props to test. Illustrations were commissioned to accompany the value props. We tested the new value props against the current homepage. In the usability test we wanted to test the hypothesis that users would understand the problem Insureon was solving, and why Insureon was best for the job. The homepage at the time did not communicate Insureon's value propositions effectively.


20 people participated in the study. Participants were split into two groups then given one of the sites to view, providing the business with insights on both the test and live page. A series of open ended questions and survey questions followed.


Participants were split into two groups. Participants were given one of the sites to view: live site or test site with new value propositions.
The Result


Overall, the new value prop test page was more successful in communicating Insureon's value to users. We gained insights on the illustrations that were used in the test as well, which led us down a path to commission clean, more simplified images.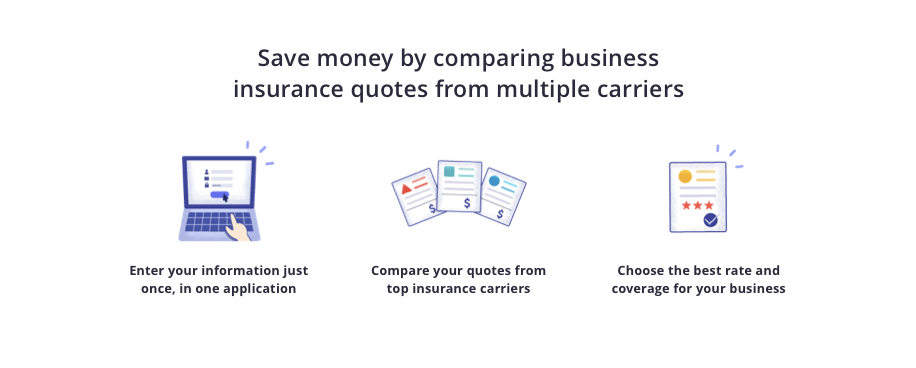 Final value proposition module that was further enhanced after learnings from the usability test.


The value propositions were added in two places on our live site: the Homepage, and the Small Business Policies page. The homepage application start metric (users that start an insurance application on Insureon's website) increased from 3.22% to 3.61% after placing the value propositions on the page. The homepage application complete metric (users that completed an entire application for insurance quotes) increased from 8.07% to 8.21%. On the Small Business Policies page we saw an increase from 13.27% to 14.73% in the application complete metric.





The value propositions were added in two places on our live site: the Homepage, and the Small Business Policies page.
Conclusion

The design team has identified further value props and pages to test on a regular testing schedule: value props that appear in article content and other landing pages. More evangelising has to be done around the value propositions across the company and align all Insureon collateral to a clear voice. As Insureon starts to hone in on its visual style, we anticipate changes with the illustration style in the future.

janelle flores portfolio - 2019